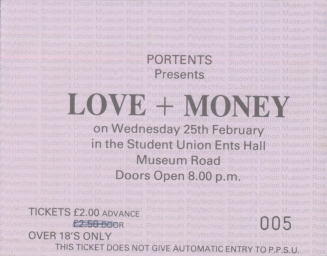 One of the first bands I went to see during my student days at Portsmouth Polytechnic was Love and Money for which it seems I paid the princely sum of £2. From memory it wasn't particularly well attended and the low numbering on the ticket on the left would seem to bear that out, or at least suggest that we were very keen and got in early! I can still remember to this day being in the union hall watching the support band Hue and Cry and waiting for the main act.
Over the following years I continued to follow Love and Money but never saw them live again.
They went on to release an album called "Strange Kind of Love" which shows that the "difficult second album" doesn't always have to be that difficult. It is also what I consider to be one of the most "complete" albums I have in my collection, by which I mean that it is one of the few albums that I can listen to end-to-end without skipping a duff track because there really isn't any. And that's turned out to be a really good thing because Love and Money have reformed (something lead man James Grant said he would never do) and are touring playing that album and "Dogs in the Traffic" in their entirety and I am dead stoked.
In fact I was so excited when I saw details on the internet I think Helen thought that we must have won the lottery. She was seriously disappointed when I told her that some obscure Scottish band that she is regularly forced to listen to had reformed and was touring!
So we will be at Shepherds Bush Empire in October and I can hardly wait!